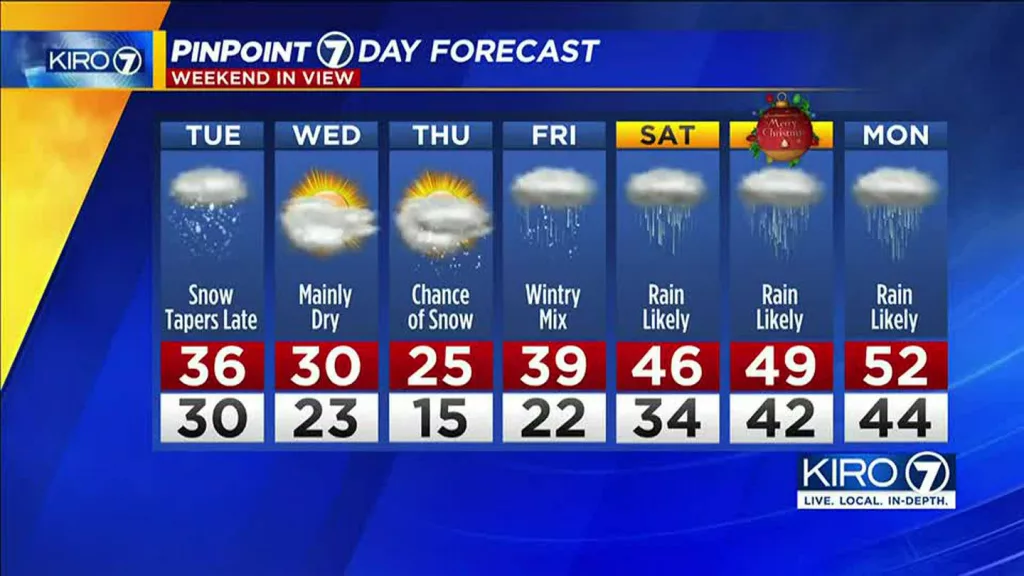 Source: Google News
WESTERN WASHINGTON — By Monday evening and through most of Tuesday, the next system begins to move onshore, increasing snow chances once again. This system is moving in farther south than the one that brought snow to the North Sound on Sunday, so this next system is expected to be more impactful and widespread.
>>School delays, snow routes
The National Weather Service has issued a Winter Storm Warning for most of Western Washington, including the Seattle area, from 7 p.m. Monday until Tuesday evening. Totals in the lowlands look to be around 2 to 8 inches by Tuesday night, but some isolated higher totals are likely as well.
>>Download the KIRO 7 Weather App to track the snow
The disturbance will exit the area on Wednesday, giving us another brief break. Temperatures are still expected to be cold with highs struggling to reach freezing in spots.
The next in the series of disturbances is forecast for Thursday. As of now, there is still some uncertainty as to what kind of precipitation we will see. There is still plenty of cold air in place and computer models have continued trending temperatures downward. Stay tuned for more on this forecast in the coming days.
A winter storm will impact the area tonight and Tuesday, bringing widespread snow accumulation to both the lowlands and the mountain passes. Those planning to travel tomorrow need to be prepared for winter driving conditions. #wawx pic.twitter.com/XACVyjYwCS

— NWS Seattle (@NWSSeattle) December 19, 2022
By Friday and through the weekend, which includes the Christmas holiday, temperatures will warm some, resulting in the change over from snow to rain.
Travel impacts
Lowlands
The National Weather Service said on Monday that because heavy snow is possible, drivers in parts of northwest and west central Washington should "plan on very difficult travel." That includes the Seattle, Bellevue, Bremerton, Everett and Tacoma areas, western Whatcom and Skagit counties, the east Puget Sound lowlands, and other areas. The snowfall area looks to end just north of Olympia.
Mountain passes
Traveling through the passes will become more difficult by Monday evening with hefty snow totals nearing 2 feet expected, along with slick roads and blowing snow reducing visibility.
Snoqualmie Pass could see 2 inches of snow per hour on Tuesday, according to Washington State Department of Transportation communications specialist Summer Derry.
"I would consider just not traveling on (Tuesday)," Derry said on Monday. "When you get a threshold of more than two-inches-per-hour, you're looking at near blackout conditions. That is very poor visibility at times, so drivers need to start making some serious decisions now on whether they need to travel (Tuesday)."
Derry recommends that drivers, if possible, travel on Monday or closer to Wednesday/Thursday.
Derry also said she's been in communication with officials at Stevens and White passes, which are also bracing for heavy snowfall on Tuesday.
On Sunday, westbound Interstate 90 closed for several hours at Ellensburg due a semitruck collision.
Westbound I-90 remains closed at Ellensburg. A detour is available via US 97 to SR 970. Chains required. Snowing hard with low visibility in places. pic.twitter.com/Z90TiDvPci

— Snoqualmie Pass (@SnoqualmiePass) December 19, 2022
WSDOT is bracing for "higher-than-usual traffic" on I-90 with winter break and the upcoming holiday weekend.
"Act like you're going over for an extended event," Derry said, adding drivers should travel with extra gas, food, water, clothes and supplies.
Patrick Fiedlak, manager at McClendon Hardware, said, "Snow shovels, ice melt, faucet covers was another very popular item and then also if people have like a wood burning stove or a fireplace, they've been stocking up on wood-burning items as well."
Jackson Mann said, "I just needed to put on my snow tires. It's getting cold out there, snow's coming down early this year. You really want to make sure you're safe, can't be too safe. Just the drivers in Tacoma, a lot of people got front-wheel driver cars and you just got to be careful and people just aren't always turning on their headlights. That's why I'm putting on the snow tires. I want to make sure I can get out of Tacoma."
Nationwide, 112.7 million people are expected to travel 50 miles or more this holiday travel season, according to AAA. Of those travelers, 102 million are expected to drive.
That would be a 3.6 million increase of travelers from last year, according to the agency.
Find travel reports for all Washington mountain passes at this link.
©2022 Cox Media Group