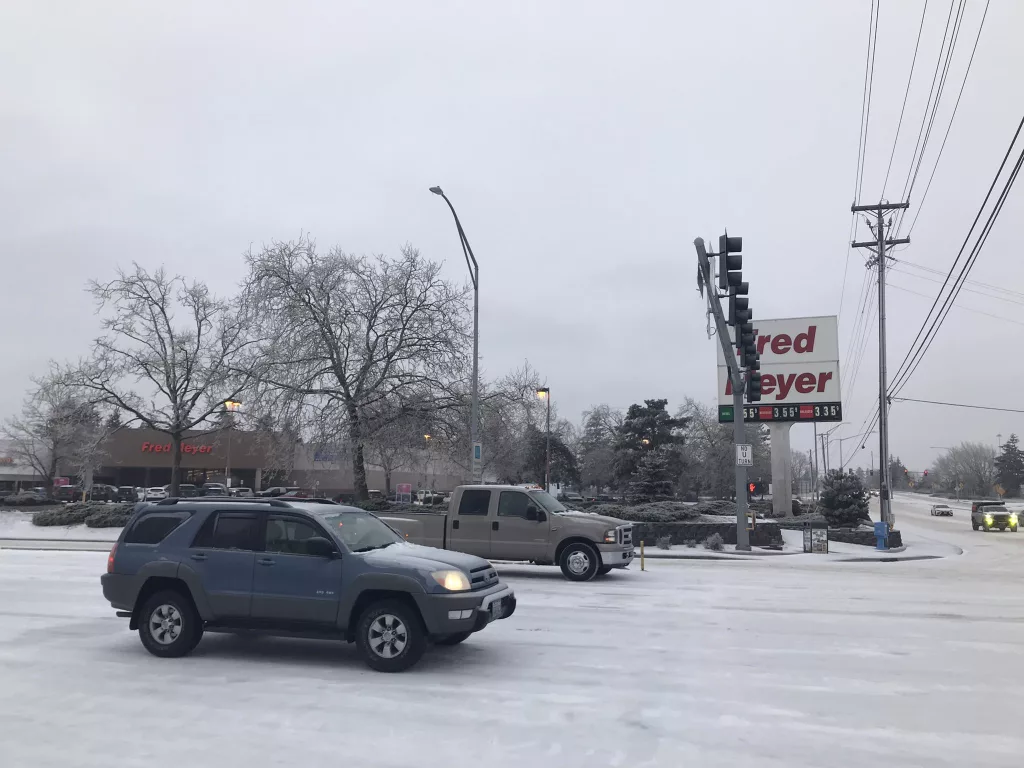 Source: Google News
Clark County and much of the Northwest woke up to a sheet of ice and snow coating roads and roofs Friday morning.
The freezing rain predicted to hit the area started in Vancouver a little after 6 p.m. Thursday night and continued to fall for hours, making for dangerous roads and driving conditions.  According to emergency radio traffic monitored in The Columbian newsroom, a jack-knifed semi blocked all lanes of Interstate 5 in North County and multiple crashes blocked lanes of state Highway 14. No further details on crashes are available.
Multiple collisions were reported on Interstate 5 this morning, according to the Washington State Department of Transportation.
WSDOT said on Twitter that the agency is working around the clock in response to the weather.
Clark County, the Portland area and Southwest Washington, along with the Willamette Valley in Oregon remain under a winter storm warning which continues through 10 p.m. tonight.
According to the National Weather Service in Portland, additional ice accumulations of a quarter to half an inch can be expected today, with greater amounts expected near the Columbia River Gorge. Winds gusting as high as 30 to 50 mph are expected, with wind chill as low as zero degrees. The area also remains under a wind chill advisory.
In Clark County, the temperature was hovering around 20 degrees a little after 6 a.m. with a high of 38 expected today.
Clark Public Utilities is currently reporting about a thousand outages in East Clark County, north of Camas and Washougal, with some 1,400 customers recently restored. Visit www.clarkpublicutilities.com/outages-safety to report outages.
Warming Centers
A number of organizations have worked with the Council for the Homeless to provide warming centers for anyone that needs to get out of the cold. Anyone who needs shelter and housing assistance can contact Council for the Homeless Housing Hotline at 360-695-9677. The hotline is staffed 9 a.m. to 8 p.m. Monday through Friday and 11 a.m. to 8 p.m. weekends and holidays.
A list of Clark County warming shelters, along with hours and details, can be found on the CRESA blog.
Road closures, transportation
Departures from Portland International Airport and Seattle-Tacoma International Airport are grounded due to snow and ice.
Interstate 84 in Oregon is closed from at Troutdale to Hood River, Mileposts 18-62, in both directions.
State Highway 14 is closed freight traffic from Milepost 19 near Washougal to Milepost 65 near the Hood River Bridge. Freight traffic should use an alternate route or delay travel, according to WSDOT.
C-Tran announced The Vine would be serviced by 40-foot buses and said passengers should board at the stops adjacent to The Vine stations. Visit www.c-tran.com for additional delays and closures.
Other closures
Most government buildings are closed, including Vancouver City Hall and the Clark County Public Service Center.
Clark County Superior Court will hold criminal first appearance docket at 9 a.m.; District Court will hold in-custody arraignments at 1 p.m.. More information is available at bit.ly/3WE3lp7.
Clark County Joint Lobby staff will be working remotely and available by phone and email from 9 a.m. to 4:30 p.m. Treasurer services will still be available at 564-397-2252 or www.clark.wa.gov/treasurer. Auditor recording services will be available at 564-397-2208 or www.clark.wa.gov/auditor/recording-overview until 4:30 p.m.
The county elections and auto licensing offices at 1408 Franklin St. in Vancouver were closed at 3 p.m. Thursday and will also be closed today. Information on licensing subagents throughout the county can be found at clark.wa.gov/auditor/licensing-locations.
Vancouver Public Schools canceled all activities beginning at noon Thursday. The city of Vancouver also closed the Firstenburg and Marshall community centers at 6 p.m. Thursday, and they will remain closed today.
Washington State University Vancouver and Clark College closed campuses through Saturday.
The Humane Society for Southwest Washington is closed today.
Businesses across the region are also closed or opening late today; check websites or social media for details.
Print delivery of The Columbian is suspended today and will resume when it is safe to deliver, said Rachel Rose, circulation director. Stories will continue to be posted at www.columbian.com, and the ePaper, available to all home delivery customers, will be published.
This story will be updated.