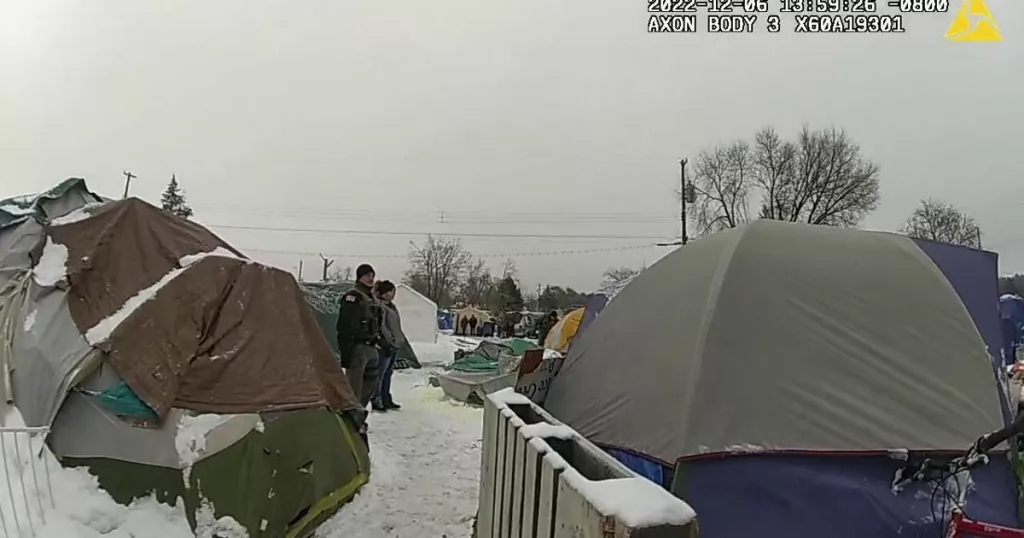 Source: Google News
(The Center Square) – Spokane County Sheriff-Elect John Nowels strongly disputes allegations that law enforcement officials are "terrorizing" inhabitants of the state's largest homeless camp on state land. 
"This narrative is blatantly false," he told The Center Square. "Our deputies and officers with the Spokane Police Department are consummate professionals and there have been zero incidences of them 'intimidating' or 'harassing' residents of Camp Hope."
Nowels argues body camera footage taken by Deputy Joshua Pratt during a Dec. 6 visit to the East Central camp shows that professionalism in action. The video has been made available to media outlets upon request and shows about 15 officers, deputies and mental health counselors passing out notices that the camp will close soon and providing information about where shelters can be found.
"That footage shows how ridiculous the claims made by service providers about what happened that day really are," said Nowels. "All we were there for was to pass out information telling people that it was time to move into a warm, dry space."
He said the video shows that Julie Garcia, director of Jewels Helping Hands, was warning residents to stay in their tents and RVs and not interact with law enforcement. The camp is located on Washington State Department of Transportation land near Interstate 90 and Jewels is being paid by the Department of Commerce to manage it. 
Garcia told The Center Square that it "triggers" many campers to be around police and deputies. She said having Pratt and others show up as a group in "tactical gear" made the situation even worse.
"Things were haywire for hours after they left," she said.
Nowels said the officers and deputies who visited the camp were dressed in their regular uniforms and utility vests. He said state law requires officers to use body cameras during custodial investigations, or when questioning individuals who they believe have committed a felony crime.
However, he said documenting situations such as the visit to Camp Hope is a good way to protect officers from unwarranted allegations of wrongdoing, and to hold them accountable.
"Cameras show what really happened," he said.
He noted that several residents of the camp hugged Pratt, a member of the local homeless outreach team, and updated him on what was going on in their lives.
In the video, Garcia informed law enforcement officials that she and others would accompany them around the camp as protection.
She said about 90% of the remaining camp residents have mental or drug addiction issues and many are chronically homeless.
"We absolutely do not want to keep people here, we just need to make sure they get into a place where they have access to the services they need," she said. "This camp was never going to be permanent and none of the campers believe that."
WSDOT, Commerce and Jewels argue that there is not enough shelter space in Spokane for everyone at the camp, so the transition could take months.
Garcia said many homeless people do not want to live in a shelter due to safety and privacy concerns, so other options need to be explored.
The population at the East Central site was once reported at about 650 people, but the number has since dropped to slightly over 400, although Nowels and Sheriff Ozzie Knezovich believe it to be much lower based on aerial surveillance.
Knezovich said there are enough beds in facilities around town to accommodate 900 people so Camp Hope can safely be closed.
A temporary restraining order sought by Jewels, Disability Rights Washington and several campers was issued Monday that prevents aerial surveillance without a court warrant. A federal judge has also stopped the sheriff's office from moving forward with forcible removal of campers until a pending civil rights case can be heard in late December.
That case, brought by the same parties, contends that WSDOT has given permission for people to camp out on its property, so they are not trespassing. And that their due process rights are being violated with forcible removal that has not gone through the courts.
Knezovich counters that the camp was founded a year ago as a protest over the lack of resources for the homeless, and it has become an "unlawful assembly" due to ongoing public health and safety violations.
He argues that an elected sheriff has the constitutional authority to remove a chronic nuisance that has adversely affected neighboring residents and businesses.
Nowels told The Center Square that the crime rate around the camp has gone up 40% to 90%, depending upon the type of offense.
"I can't believe that people living or running a business near that camp haven't sued WSDOT yet over the damages they have suffered," he said.
Garcia said the camp is now closed to new residents while the transition to other housing for the existing population takes place. She said a curfew was put in place after the property was fenced and WSDOT has a security team on the ground.
In addition, campers are required to be badged for identification purposes and must sign a good neighbor agreement.
"We hold people accountable," she said. "Right now they are being monitored they are being helped and they have more services here than they would in a shelter."
Garcia said neither Knezovich nor Nowels have visited the camp so she questions how they can speak knowledgeably about what is happening there.
The two law enforcement officials replied that they are "constantly" receiving information about the camp.
"We are constantly in touch with our deputies and monitoring what is going on out there," said Nowels. "You don't have to go to that camp to know that it is a big problem for this city."