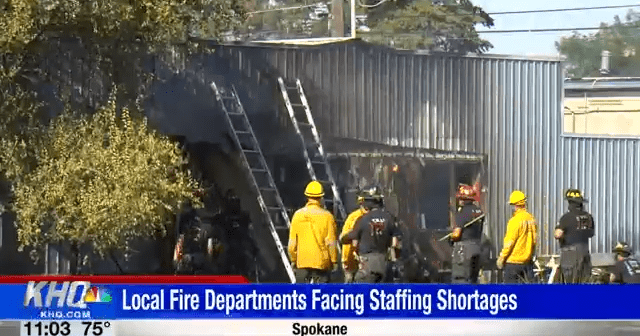 Source: Google News
SPOKANE, Wash. –  Firefighters in Spokane have were been busy all-day Monday with a series of small brush fires that just won't quit.
"We can't predict the fires, where they'll occur but we certainly know that with the high heat winds and incoming dry lightning we're assured to have a busy next 24 to 48 hours," Spokane Fire Chief Brian Schaeffer said.
One brush fire spread to a shed and part of a window storage unit before firefighters got the flames out. But in the 15 minutes it was burning, a separate RV fire on Freya took some of those fire crews away.
"While that's going on there's often times 15 to 20 more concurrent incidents that other crews around the city are responding to so it's a never-ending cycle," Schaeffer said.
Needless to say, fire season is in full swing and our local fire crews are swamped.
But at the same time, emergency services across the state are struggling to find workers.
Leaving the Spokane Fire Department understaffed and overworked.
"We struggle to fill all of our apparatus, all of our vacancies on a daily basis," he said. "The overtime is required for us to keep stations open and to keep companies staffed."
Statewide, fire departments are seeing a 10% to 15% vacancy rate. That's partly because of the pandemic as well as retirements.
"It's created a lot of vacancies. Our people are sometimes working 48, 72 hours straight and it really makes for difficult morale in the department as well as our ability to respond error free," he said. "Having to stay awake for so long and having as many fires under such hot conditions can really make a shift excessively long and tough."
Schaeffer said despite the staffing issues, they will never leave a community without any help.
"It's happened a couple of times where we weren't able to hold over or bring staff into work and in those situations, we'll go to a double company firehouse and take one of those companies out of service," he said. "But we never leave a neighborhood unattended."
Safety is the most important thing. Crews are forced to rotate every 15 or 30 minutes, especially in the extreme heat.
Of course, the solution is to hire more people. 
If you're interested in becoming a firefighter, there's a 16-week training course you'll have to go through.
There is a class going through it now, and they should be ready to get to work, by the winter.