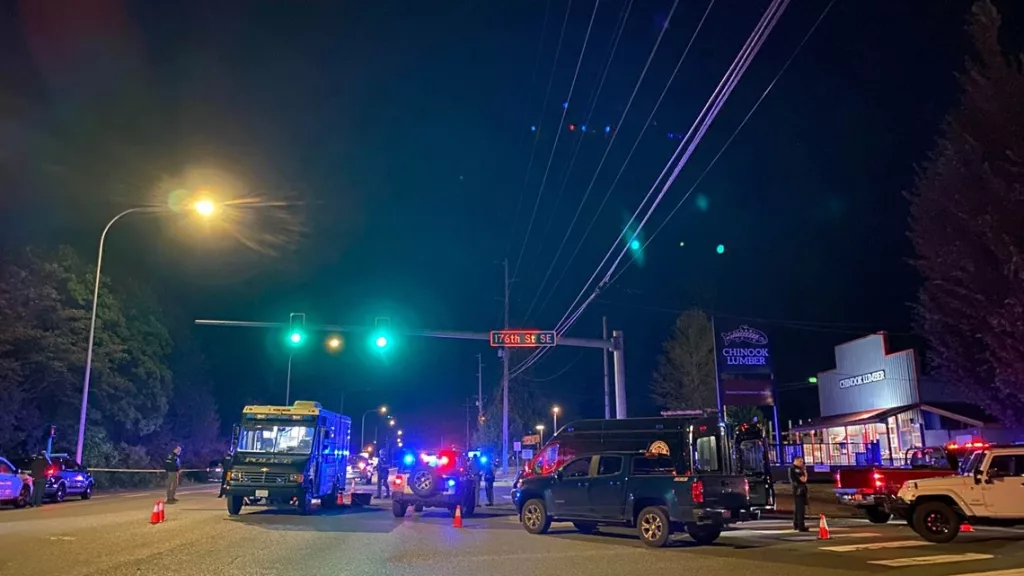 Source: Google News
Two Washington State Patrol troopers returned fire, injuring the suspect. He was eventually taken to a local hospital with life-threatening injuries.
SNOHOMISH, Wash. — A suspect shot at a Washington State Patrol trooper and barricaded himself in his car for hours on State Route 9 Monday night. 
Two Washington State Patrol troopers returned fire at the suspect, striking and injuring him. The suspect was taken into custody and sent to a local hospital  with life-threatening injuries after an hours-long standoff. 
The Washington State Patrol (WSP) trooper initiated a traffic stop on a speeding driver on SR 9 south of Snohomish around 7:38 p.m. Monday, according to the Valley Independent Investigative Team (VIIT). 
The suspect then fired a shotgun at short range at the trooper. The trooper and another trooper who had arrived as backup both shot back, striking and injuring the suspect. 
The suspect refused to put down his gun and continued to move around inside his car, resulting in a "prolonged barricaded subject situation," according to VIIT. 
Multiple regional tactical teams responded. Members of the Snohomish County Sheriff's Office were able to take the suspect into custody around 11:30 p.m. Monday. The suspect, a 27-year-old Snohomish man, was taken to a local hospital with apparent life-threatening injuries. 
Neither of the WSP troopers were injured. The Washington State Department of Transportation (WSDOT) said all lanes of SR 9 reopened to traffic just before 9:30 a.m. after being closed for nearly 13 hours.
VIIT is investigating the incident. Anyone who witnessed the initial encounter is asked to contact Detective Jason Renggli at [email protected] or by phone at (425) 430-7525.
Click here for the latest road closure information from the WSDOT website.
This is a developing story. Check back for updates. 
Download our free KING 5 app to stay up-to-date on news stories from across western Washington.
WATCH: KING 5's top stories playlist on YouTube