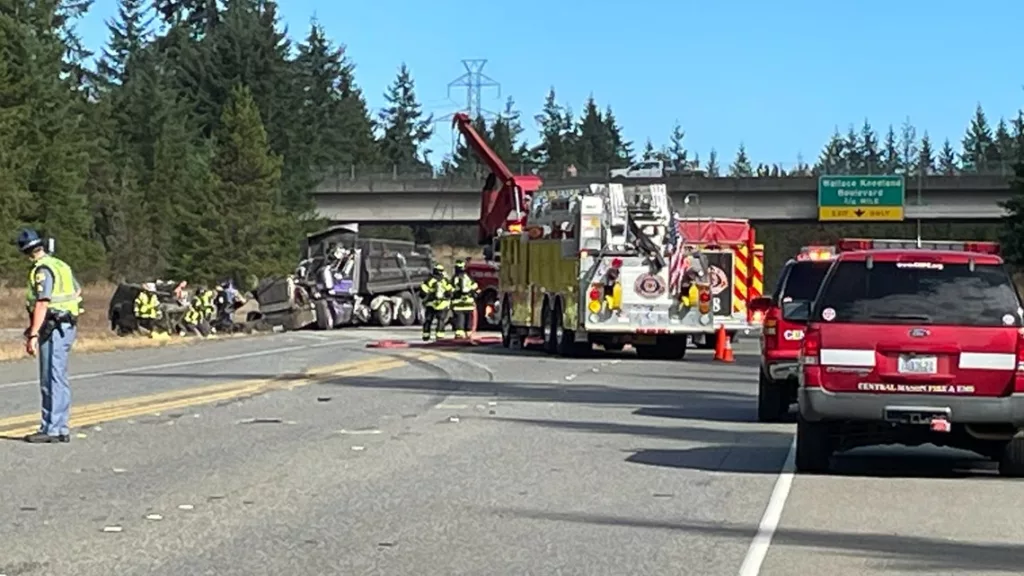 Source: Google News
Both directions of US 101 near Shelton were closed after a three-vehicle crash Wednesday. The driver of one vehicle was taken into custody for suspicion of DUI.
SHELTON, Wash. — Two people were killed and two others were "seriously injured" in a head-on crash involving a commercial dump truck on US Route 101 near Shelton Wednesday morning.
The Washington State Patrol (WSP) said the dump truck rolled in the crash. Two other vehicles, a black SUV and a Mazda pickup truck, were also involved in the crash
US 101 reopened after several hours Wednesday afternoon. A lane shift is still in place as crews continue to work at the scene. Authorities had closed the northbound lanes of US 101 at Shelton Matlock Road, and the southbound lanes at Wallace Kneeland Boulevard.
The Washington State Department of Transportation (WSDOT) first tweeted about the crash just before 7:35 a.m.
>> Download KING 5+, our new Roku and Amazon Fire apps, to watch live coverage 24/7
The WSP said the man driving the dump truck, 58-year-old Duane Wharton and the woman driving the black SUV, 66-year-old Rita Lyman, were killed in the crash.
The driver of the Mazda pickup truck was driving southbound when they allegedly crossed the center line into the northbound lane, hitting the dump truck that was full of gravel, according to the WSP. The driver of the dump truck lost control of the vehicle and hit the black SUV, killing both drivers.
The man driving the pickup truck and the woman inside the truck were taken to the hospital.
The WSP said the man who was driving the truck, was taken into custody for suspicion of DUI. The man could potentially face two vehicular homicide charges.
The WSP, the WSDOT and fire crews responded to the scene.
This is a developing story. Check back for updates. 
Download our free KING 5 app to stay up-to-date on news stories from across western Washington.
WATCH: KING 5's top stories playlist on YouTube