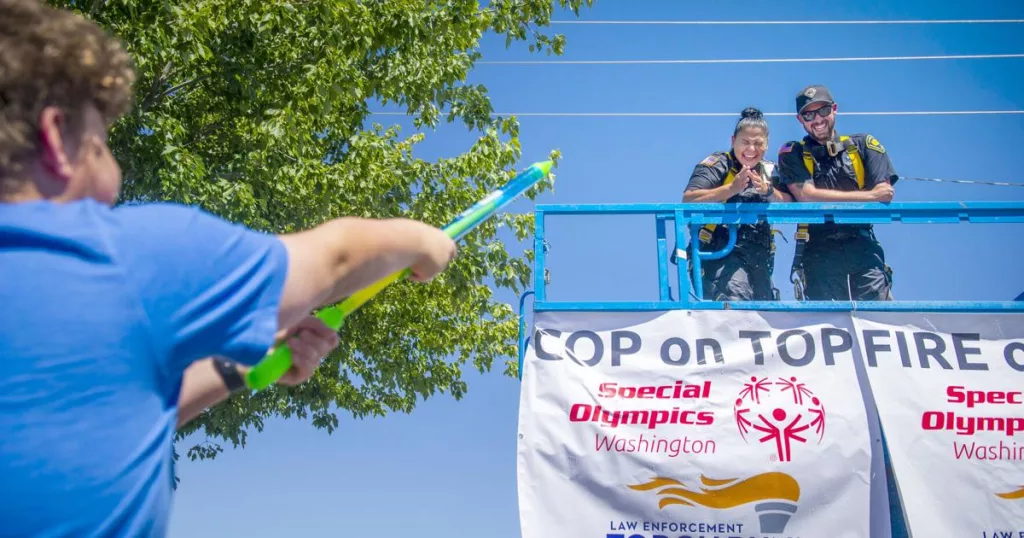 Source: Google News
Thousands of athletes are served by Special Olympics Washington through nearly two dozen sports and 38 local, regional and statewide tournaments.
The program's success comes in part from fundraising efforts by law enforcement groups through the Law Enforcement Torch Run campaign.
The spotlight fell on Washington State Penitentiary Corrections Lt./Shift Cmdr. Evelyn Flores, who spearheaded participation for the institution at a July 23, 2022, LETR Fire & Cop on Top event here.
Federal Way police officer and LETR State Director Donovan Heavener said Flores, a nearly lifetime Walla Walla resident, was cited for going above and beyond for the athletes in the state.
She was honored with the Special Olympics 2022 Rookie of the Year Award, which will be announced at the Washington Association of Sheriffs & Police Chiefs conference on Nov. 15.
Walla Wallan Tim Toon, Special Olympics East Region program manager, nominated Flores.
"Evelyn was amazing the day of the event. She rarely stopped laughing while engaging in water fights with anyone brave enough to take her on," Toon said.
"I had a ton of fun! The weather was hot but we stayed constantly soaked the entire time we were there so we stayed cool," said WSP correctional officer Dakota Hayes, who joined Flores for the activity.
The kids used water guns of different sizes to soak their targets. "Making any donation allowed the donator to spray us," Hayes said.
Weeks beforehand, Flores secured permission to bring WSP's vintage restored 1941 Ford LaFrance firetruck, persuaded Hayes to go "on top" with her to take hits from water shooters and extensively promoted the event on social media, Toon said.
"Thanks to Evelyn's efforts, many WSP employees, family and friends participated in this LETR event and donated money," Toon said.
"WSP helped raise more than $2,500 in their 90-minute time block, more than any other agency. Over $12,000 was raised by the combined effort of all agencies," he said.
Although a LETR rookie, "Evelyn acted like a seasoned veteran and we are sure she'll lead WSP's efforts again in the 2023 Walla Walla Fire & Cop on Top event," Toon added.
"Speaking of love, philanthropy in all aspects and meaning of the word is on my list of love and priorities. To me love is synonymous with philanthropy. In the spirit of this, I volunteer regularly in the community as much as I can," Flores said.
"I would love to be back next year if given the chance," Hayes said.
The pair jumped into this benefit because, "We wanted to get out and be more involved in the community and help raise money for a great cause," Hayes said.
"Dakota and I are members of the WSP Recruitment Team as well and we plan on being back next year with more participation from our Recruitment Team, Special Teams and other peers," Flores said.
The WSP Employee Association donated $500 to Special Olympics Washington and donated $1 for every drink sold during their time slot.
Heavener said law enforcement personnel statewide raise thousands of dollars for Special Olympics athletes and increase public awareness to the program.
"Nearly 2,000 law enforcement personnel are involved in Washington state LETR efforts and consistently raise nearly half a million dollars annually for local programs."
The proceeds mean opportunities can be offered free to athletes and their families, Heavener said.
"At the core of our organization is the transformative power of sports; instilling confidence, improving health and inspiring a sense of competition.