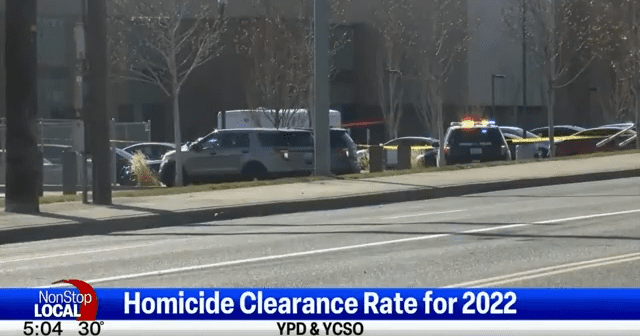 Source: NBC RightNow

YAKIMA COUNTY – The Yakima County Sheriff's Office and the Yakima Police Department are both reporting a lower clearance rate for murders in 2022. The agencies say lack of compliant witnesses contributed to their lower rates. 
In the state of Washington, a crime can be cleared in multiple ways. One way is to make an arrest, that doesn't mean all suspects have to be arrested. A homicide is considered cleared after one arrest. 
A homicide can also be exceptionally cleared. To be exceptionally cleared, at least one suspect in the crime must be identified, sufficient probable cause must have been developed to support the arrest and prosecution of the offender, the offender's exact location must be known or there must be a reason outside of law enforcement's control which prevents the arrest. 
Last year, YPD had a 100% homicide clearance rate. The captain of the Criminal Investigation Division at the time said the success was due to more people coming forward with information to the police. However, this year, that trend seems to be heading in the opposite direction. 
YPD currently has a 64% homicide clearance rate with roughly three weeks left in 2022. Captain Shawn Boyle, – who is now the head of CID – said witnesses have been unwilling to testify.
"We've identified people that potentially have information it is just there is unwillingness to cooperate," Captain Boyle said. "Either its safety concerns or sometimes they're associated with the people involved."
In total, YPD is investigating 14 murders. Of those cases, nine cases have been cleared with 13 arrests. 
Captain Boyle said he'd like to see the clearance rate increase.
"We'd like to be able to clear 100% to get justice for the victims of the homicide and for the families so that they know that somebody is going to be held accountable for the crimes against their family member or friend or relative," he said. 
YCSO faces the same struggle. Sergeant Jason Pepper of the homicide division said it's even more difficult to get cooperation from witnesses when the murder is drug or gang related.
YCSO is investigating 12 murders. It has been able to clear two of those cases. The Public Information Officer Casey Schilperoort said most of the office's murder investigations this year are drug related and at least one case is gang related. 
YCSO's homicide clearance rate this year is currently sitting at about 16%. In 2021, its clearance rate was 50%.
"With each homicide, there's different circumstances that surround it and not all of them are the same so it's kind of hard to judge whether that a good or bad clearance rate," Sgt. Pepper said.
Out of YPD's cases, at least three are confirmed to be gang related and at least three, drug related. Two cases were justified homicides.
Both agencies said they have made progress in some of their cases and hope to make more arrests in the coming year.