SR22 DUI Insurance — Get Insured After a DUI [FAQ]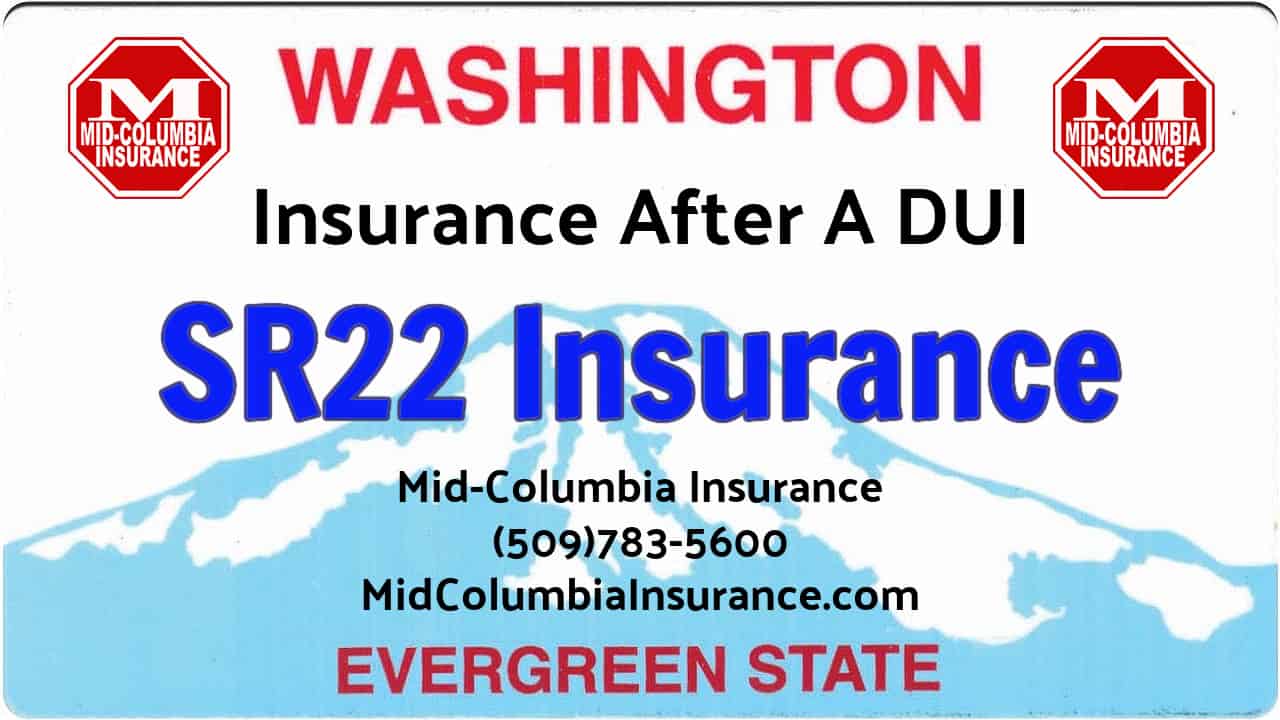 Flashing lights in the rear-view mirror are your first clue that getting behind the wheel after a few drinks with friends was a bad idea. A million thoughts run through your head. In addition to everything else, you are concerned about your car insurance costs. We can't help with "everything else", but we can help guide you through the process of getting DUI car insurance.
We will help you get the cheapest DUI insurance by getting quotes from multiple insurance companies and offering you the best DUI insurance options. Technically, "DUI insurance" does not exist but, because many companies won't insure a driver with a DUI, the term is commonly used by those shopping for auto insurance after getting a DUI and needing SR22 insurance.
Your insurance does not have to be complicated. Mid-Columbia Insurance can help you can find the coverage you want at a price you can afford even after you've been pulled over for a DUI. The companies we represent are not scared away by a Driving Under the Influence conviction.
Will I have problems getting insurance after a DUI?
If convicted of a DUI, most of the major insurance companies will consider you a
high-risk driver
and may charge you an exorbitant amount (hoping you will go elsewhere) or not even offer to insure you (and may even refer you to us). At Mid-Columbia Insurance we specialize in helping drivers who have a DUI or any other major ticket get affordable insurance. We represent a number of insurance companies who specialize in insuring drivers with a DUI and needing an SR22 filing.
Do I have to tell my current insurance company about my DUI?
You are not required to report tickets to your existing insurance company. If they do find out, your current insurance rates should not change until renewal. But your insurance company may have a loophole that allows them to cancel policies if a driver loses their license. For this reason, a number of 'preferred' insurance company agents refer their clients to Mid-Columbia Insurance to handle the required SR22 on a bare-bones policy and not jeopardize their "preferred" insurance rates for as long as possible.
How much does a DUI affect insurance rates?
With most of our companies, a single DUI will raise your rate about the same as two speeding tickets but a second DUI would be more like four or more speeding tickets. So yes, a DUI will raise your rates but if that is the only issue, our companies will not punish you.
A second DUI offense is not treated so lightly since it shows a pattern of irresponsibility. And responsibility is the key factor insurance companies use to calculate rates.
How much is DUI insurance?
The rates insurance companies offer for DUI car insurance differ widely. Many factors influence the cost of DUI insurance, including the city where you live, your credit, and other activity on your driving record. Every company weighs these factors differently, so there isn't a company that is always the "best" when it comes to insurance after a DUI. You need to get quotes from multiple companies. As an independent insurance agency, we can do that for you.
The chart below shows the difference in rates for a first and second DUI among various companies. Our analysis shows that National General usually offers the cheapest DUI car insurance rates. The difference between the cheapest DUI rate from National General ($402) and the most expensive from Bristol West ($669) is $267, more than 50% higher than the National General. So, as you can see, you can save quite a bit by allowing us to compare car insurance quotes for you.
6-month DUI insurance rates by company
6-Month Cost for
DUI Insurance
Clean
Record
1 DUI
& SR22

2 DUIs
& SR22

National General
$385
$402
$609
Progressive
$425
$560
$704
Dairyland
$513
$513
$841
Kemper Specialty
$458
$507
$545
Bristol West
$495
$669
$775
* Rates are for 25/50/25 liability coverage for a 30-year-old single male living in Yakima, WA.
Even though National General shows up best here they are not always the cheapest for DUI insurance. Depending on the coverages you choose, the discounts you qualify for, your age, driving record, the city you live in, and your credit will affect your personal rate. You can wind up paying a lot — or saving a lot — depending on the company you choose. Let us help you find the right DUI insurance company.
How long does a DUI affect insurance rates?
In Washington, a DUI may increase your rates for 3 to 5 years from the date you were arrested. Some companies wipe your record clean after 3 years. Others won't drop it till it has passed the 5-year mark. Once the DUI has dropped off be sure to ask your agent to shop your coverage again to make sure you are getting the best rates available for someone with a "clean" driving record.
Do I have to admit to my DUI when getting an insurance quote?
Only if you want an accurate quote. Your Motor Vehicle Reports (MVR) is going to be run anyway, so not disclosing your tickets and accidents in advance just means you are delaying getting an accurate quote and preventing your agent from finding you the best possible policy for your specific needs.
Can my insurance company cancel my policy because of my DUI?
Yes. Some insurance companies will cancel a policy if the driver does not have a valid license due to a DUI or they might wait till the end of the term and non-renew your policy. Not all carriers accept drivers with major driving violations such as DUI. If your insurance company does cancel your policy, make sure you immediately get insurance from another company.
Will a DUI conviction make it hard for me to get insurance?
Although a DUI will make your insurance more expensive and may require you to change insurance companies, don't worry. Mid-Columbia Insurance represents many companies that will insure drivers with a DUI conviction. Let us do the shopping for you. We can compare rates from multiple insurance companies and find one that suits your needs.
Can I get DUI insurance without a car?
If you need DUI insurance but don't own a car, a Washington Broad Form Insurance will cover you to drive any car, owned or non-owned.
Broad Form car insurance covers you in the event you're determined to be at fault in an accident while driving any car or pickup for personal use. If you cause an accident while driving an owned or borrowed vehicle, a broadform policy covers damages to other people's vehicles and property.
What is an SR22?
In order to get your licence back after being convicted of a DUI in Washington, you will need to have an SR22 certificate filed with the Department of Licensing (DOL). The SR-22 is proof you are meeting Washington state's minimum vehicle insurance requirements. When you purchase DUI insurance, the insurance company will send the SR22 to the DOL for you.
What's an ignition interlock device?
If you are convicted of a DUI in Washington state, the court will require an ignition interlock device be installed in your vehicle. This ignition interlock device measures the Blood Alcohol Concentration (BAC) of the driver, and won't allow the car to start if the driver's BAC is over the state's legal limit or the limit the court has set on the device.


Estevan was very helpful and friendly. He provided great customer service in a timely manner. He made everything so convenient and easy. I definitely recommend him.


Gary Paulson was extremely helpful and courteous with me when I was looking to insure my recently purchased car. I felt bad because we wound up playing phone tag for weeks trying to get a time to talk that would work for me. Luckily, he is extremely patient! He got us a great deal through Progressive and we are definately happy to be back on the road. Thanks Gary and Mid Columbia Insurance. We appreciate your time and effort. We will definately use your services in the future and reccomend you to our friends. 5+++


Daisy Montejano was a pleasure to work with!