Driving without insurance could be expensive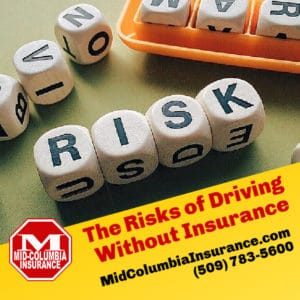 Car insurance is important. As the driver, it protects you, your family, and your assets as well as protecting others you may encounter on the road. That's why Washington state and nearly every other state in the country require drivers to be insured if they are going to be on the road.
If you choose to drive without auto insurance hoping to save some money, you could end up paying far more than any possible savings. And getting pulled over by the police should be the least of your worries. That ticket will probably cost you less than $500. But if you have an accident, you could end up owing the other party thousands upon thousands. Your wages could be garnished for years to pay back a momentary lapse in judgment. Consider the risks – and choose wisely.
Is car insurance required to drive in Washington?
The short answer is yes, car insurance is required in Washington state. It is the law. Without insurance, most people would not have the cash on hand needed to cover the injuries and damages they might cause in an accident. So the insurance protects your wallet while protecting those you may encounter on the road. Washington state requires Individuals who own or drive a vehicle to carry the following car insurance coverages:
Bodily Injury Liability: This coverage helps pay for bodily injuries you cause to others. You are only required to have $25,000 per person coverage with a cap of $50,000 if you injure more than one person. Have you looked at a hospital bill lately? Please seriously consider buying more than the minimum required coverage.
Property Damage Liability: This coverage helps pay for damages you cause to another person's property. The state only requires you to carry $10,000 coverage. This is a joke. Besides not being enough to pay for most cars on the road, what if more than 1 car is damaged in an accident you cause? And any idea what it costs to repair a traffic light if you take out one of those?
What happens if you get into an accident with no insurance?
If you caused the accident, you'll be held liable for the medical bills and lost wages for anyone injured in the accident and for any property damage you caused. You also will get your license suspended and need to carry an SR22 until you make restitution to those you injured. You can also expect to pay some hefty traffic fines.
If the other driver is at fault, you will need to deal with the other party's insurance company to work out what you get paid. And if the other party did not have insurance either, well then you are in real bad shape since they probably can't pay you and no lawyer will help cause there is no insurance company for them to go after.
What can it cost to drive without insurance?
Financially speaking, driving without insurance can be costly, even beyond the costs insurance would've paid for. If you're unable to show proof you're insured, the consequences vary based upon the state you're driving in.
Normally, if you get pulled over without insurance and don't have any prior no-insurance tickets, you'll likely pay a fine of about $450 unless you show proof that you have since purchased insurance and the judge is feeling lenient.
If you happen to be driving in Oregon and get pulled over, your license will be suspended for 3 years and you will have to carry an Oregon SR22 to keep your Washington license valid. Also, expect your car to get impounded, making you responsible for towing fees and other associated costs. And while it's unlikely for a first offense, you could even face jail time for driving without insurance.
The question you should ask yourself if you are considering driving without insurance is whether you should stop driving until you can afford to get it started up again or if you can find cheaper insurance to help you stay legal and stay protected.
Where can you find cheap car insurance?
You can get a car insurance policy from Mid-Columbia Insurance by calling us at (509) 783-5600 or fill out our quick quote form for a fast, free quote on cheap car insurance. We represent many companies that compete to offer affordable rates with low down payments and our service is exceptional.
To get a quote, you'll need to tell us about:
Yourself, including your age, your driving record, and where you live
Your car(s), including their year, make, and model
Your household, including anyone you expect to drive your vehicle
Mid-Columbia Insurance is here to help as you find the coverage you want at a price you can afford.