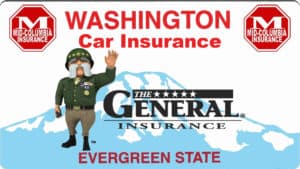 As a licensed representative for The General Insurance in Washington State, we know you have many choices for auto insurance. Our goal is to help you understand your auto insurance coverage and your options. Mid-Columbia Insurance offers The General to all of Washington state.
Call us today at (509)783-5600.
The General Says "Yes" When Others Say "No."
High-risk auto insurance can be difficult to find and when it is found is usually so expensive that few can afford it. Luckily, The General offers non-standard car insurance policies with flexible coverages to help high-risk drivers obtain affordable car insurance.
Not all insurers offer car insurance policies to all drivers, but The General provides the coverages you need at a price you can afford — even if you have a less than perfect driving record, policy lapses, or even no prior coverage.
The General offers affordable rates to high-risk drivers
The General specializes in providing affordable auto insurance to high-risk drivers. Some insurance companies only offer affordable rates to drivers who have been previously insured, are over age 25, under age 70, and have perfect driving records. But many of us don't fit into those categories.
Most insurers shy away from those under 25 or over 70 years old, have a suspended or revoked license, require an SR22 filing, have been convicted of a DUI, or have had multiple tickets or accidents. The General even offers affordable coverage for drivers who have not been insured before or have let their insurance canceled.
The General provides insurance coverage to drivers that other insurance companies won't insure. They know that not everyone has perfect credit or an outstanding driving record, but they still need insurance.
How much does The General car insurance cost?
How much you'll pay for car insurance depends on a number of factors and no two people are alike. Get a free, no-obligation quote from Mid-Columbia Insurance and find out what we can do for you. Although Washington state law requires every driver to carry at least the minimum amount of liability coverage, The General makes it affordable and you may decide to buy more than just the minimum.
What types of insurance does The General offer?
The General offers all the basic car insurance coverage options, liability, uninsured motorist, personal injury protection, comprehensive, and collision.
Liability insurance pays for damage you cause to others and their vehicles or property. It does not pay for your medical expenses, lost wages, or car repairs. Washington does require all drivers to carry liability insurance.
Comprehensive and Collision (aka full coverage) cover your car if it is damaged. If your car is financed, the bank will require you to carry comprehensive and collision insurance. Even if your car is paid off, you might still want this coverage if you can't afford to replace it after a crash.
Uninsured Motorist protects you, your passengers, and your vehicle if you are hit by an uninsured or hit-and-run driver. Your insurance company acts as if they were the other driver's insurance company.
Personal Injury Protection covers medical expenses you and your passengers incur due to a car accident. It also covers you and resident family members while passengers in someone else's car.
Washington state does not require you to carry uninsured motorist or personal injury protection but it is a good idea. These coverages protect you and your family from financial ruin but it is your decision whether you purchase them or not.
Does The General car insurance have full coverage?
Yes, The General offers what the banks call "full coverage." Full coverage just means the bank's loan is protected if your car is damaged in an accident. "Full coverage" does not mean "everything coverage". It is just another way of saying "comprehensive and collision" is included. Uninsured motorist and personal injury protection are not required with "full coverage" insurance.
The amount of coverage you need depends on your personal situation. If you have assets, such as a house or investments, you want to make sure you have enough insurance in case of a serious crash. Otherwise, you could lose these assets in a lawsuit. If you don't have much in the way of assets, you won't need as much insurance, but remember, your wages can be garnished to cover damages.
Is The General a good insurance company?
The General is a good car insurance option, especially for high-risk drivers. The company offers high-risk drivers very affordable premiums which is important if you're on a budget. The General offers a simple plan with no frills. The company is not afraid to offer straightforward coverages at affordable rates to high-risk drivers.
What Discounts Does The General Have In Washington State?
If you have a good insurance history or you've gone years without filing a claim, you could save 30 percent or more off of your total premiums. The General even offers savings to people who can pay the full 6 month premium instead of setting up monthly payments. \
The drivers covered by your policy are very important when you're getting insurance. The company places much weight on a driver's experience and their driving record when setting personalized rates. While The General does have some of the most lenient underwriting guidelines, it's still nice to get discounts. Here are the driver discounts you can qualify for:
Homeowner – for policyholders who own homes or condos
Multi-Car (savings for insuring two or more of your cars with The General)
Enhanced Transfer – if you've been with another carrier. Varies on how long covered and any lapse.
Double Deductible – first 45 days of policy your deductible is twice as much.
Restricted Liability – only the drivers listed on the policy are covered drivers.
Senior Driver Training – for drivers 55 and older who graduate from a state-approved driver education course
Full Payment – paying the total 6 month premium up front
Auto Pay Billing – from your checking account or debit/credit card
What payment plans does The General offer?
The General makes car insurance affordable and that includes offering payment plans. You can pay monthly or save more by paying for the full six months.
What are the payment methods are available from The General?
The General's payment options are quite flexible including the ability to pay via credit card, debit card, and even cash at our local office. It is even possible to choose the date you wish to make your payments and with the mobile app you can manage your car insurance anytime and anywhere.
Online: xxx.com – By debit/credit card or by electronic check
Phone: xxx-xxx – By debit/credit card or by electronic check
Apple & Android App: By debit/credit card or by electronic check
Auto Pay: From your bank account directly or by debit/credit card.
Agency: By debit/credit card, check, or even cash.
Can payments be set up for auto-pay each month with The General?
Yes, you can have your car insurance paid automatically every month by credit card or have the premium deducted from your bank account. Not only is auto-pay a huge time-saver, but you know that your insurance is paid and you even save a couple of bucks per month.
Can I make my monthly payments online?
Yes, it is very simple to pay your car insurance policy online. Just sign in to MyPolicy on The General website and enter your payment information, and you're done. Yep, That easy.
With MyPolicy, you can also check your policy information and even make changes.
Does The General charge a cancelation fee?
The General does not charge cancelation fees in Washington State.
How do I file a claim with The General?
The General provides two ways to submit a car insurance claim. You can call the company's 24/7 toll-free number or use The General's app which is available from the Apple Store or Google Pay.
Does The General have a mobile app?
Yes, policyholders can download The General's app from the Apple Store or Google Play. The app makes it easy to make a payment. You can make multiple payments, split the payment if you don't have all of the money available, and also schedule payments for a later date.
The app also allows you to set up auto-pay if you want to have your monthly payments automatically paid by card or bank account.
Another advantage of using The General's app is being able to view and access a digital insurance policy ID card when you need to provide proof of insurance.
Is The General a good car insurance company?
According to Credit-rating agency AM Best, The General is among the top insurance companies, having a rating of "A/Excellent" for financial stability, the 3rd highest of 13 ratings.
How long has The General Insurance been in business?
The General opened for business in 1963. Being in business for 60 years means you can depend on The General when an accident happens.
Call Mid-Columbia Insurance at (509)783-5600 regarding The General Insurance products and for quotes in Washington state.