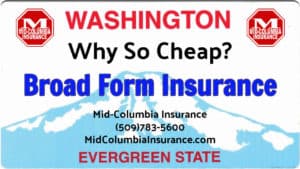 Mid-Columbia Insurance prides itself as being your best choice for Washington state Broad Form Insurance. Once and a while it is good to examine what is being published about broad form insurance online and point out some of the more glaring misstatements.
The website ValuePenguin has many great articles about auto insurance and their page about broad form insurance ranks near the top of Google but it makes some statements about broadform insurance that need to be addressed.
ValuePenguin Article: What is Broad Form Insurance
Only Minimum Liability Coverage – Fact or Fiction?
ValuePenguin: Broad form car insurance is a cheaper option when it comes to auto coverage, as it only covers one driver with minimum liability coverage.
The ValuePenguin article makes a couple mistakes that are common to these large websites when they write about broadform insurance. In the first sentence of the article the author states that broad form insurance is a cheaper option (true) and that it only covers one driver (semi-true) but then says "with minimum liability coverage" which is incorrect.

While true that most people who choose broad form may opt for the lower state minimum 25/50 liability limits, most all the companies that offer broad form policies also offer the option of choosing 50/100 and a few even offer 100/300 limits, hardly minimum liability coverage. Many drivers who have 'regular' car insurance also choose the 25/50 state minimum, so the two types of policies are not different in this regard. If the author had not included this portion of the statement all would have been well.
Note that "only covers one driver" was marked as semi-true. Dairyland Insurance actually offers a 2-person broadform policy that is perfect for a couple who share vehicles since it would cover them both if one is the owner of a car being driven by the other. They are the only company that offers this (at least in Washington state).
Broad Form is Not Broad – Fact or Fiction?
ValuePenguin: While the term "broad form" may seem like a wide range of coverage, it's actually the opposite.
A regular car insurance policy specifies the cars that are covered and any regular operator must be listed to be covered. A broad form policy removes the list of cars that are covered and simply covers the driver that is listed (usually just the single named insured) on most any car they happen to be driving.
Every state and almost every company does offer what is called Named Non-Owner policy which is limited to just covering the policyholder while driving non-owned vehicles. This type of policy also usually excludes coverage while driving any car available for the policyholder's regular use, such as cars parked in the same household or borrowed frequently

A broad form policy is called "broad" because it removes this car ownership/availability restriction that the standard non-owner policy has and therefore is actually broader coverage. Even a regular car insurance policy will not cover the policyholder if they are driving a vehicle available for their regular use or parked at their address.
So, it does not matter whether you own the car or not, whether you drive the car everyday or it is a one-time loaner. As long as it is a 4-wheeled private passenger vehicle not being used for business purposes (the same restriction on every personal auto policy without amendment) the policyholder is covered while they are the driver.
Non-Owner Car Insurance Better If You Don't Own a Car – Fact or Fiction?
ValuePenguin: But if you do not own a car, non-owner car insurance is a better fit.
Although this paragraph starts out well saying that a broad form policy can save you money if you own more than one vehicle, it completely misses the purpose of broad form insurance in the second sentence of the paragraph.

A non-owner policy will not cover a car borrowed frequently or available for regular use. If the insurance company can prove that the car is regularly parked at the policyholder's address or the policyholder borrows it frequently, then the insurance company will not have to pay the claim if the policyholder is involved in an accident with that vehicle. Very few people are looking for car insurance who do not have a car they regularly drive.
Bare-Bones & No Coverage For Others – Fact or Fiction?
ValuePenguin: This type of coverage is ideal for drivers who:
Seek bare-bones coverage
Drive alone
Don't have children or dependents
The first three of the five bullets really do need to be addressed. First, a broad form policy is not bare-bones coverage any more than a regular car insurance policy could be bare-bones. Not only, as mentioned earlier, can liability limits be pushed all the way up to 100/300 limits, both Uninsured Motorist (UM) and Personal Injury Protection (PIP) medical coverage can be added, so again not bare-bones..

Then the author goes on to say broad form is only ideal for those who drive alone or don't have children/dependents. Sure, a person who only carries liability insurance is taking a big risk if they carry others in their car but that is true for regular car insurance policies as well. Both regular policies and broad form policies would provide coverage to others in the car if the policy holder adds UM and PIP to the policy, something the author does mention later in the article.
Conclusion
Most every other criticism of the broad form policy in this article would be just as true for a liability-only regular car insurance policy. Anyone who needs Comprehensive and Collision coverages should not get a broad form policy and neither should they get a liability-only regular policy. The real limitation of a broad form is that it limits the coverage to just the named insured while they are driving.
A Broad Form policy is ideal for those who 1) own no cars, borrow cars frequently, or own multiple cars, 2) don't need comprehensive and collision coverage, and 3) never allow others to drive their cars. More info: Broad Form Car Insurance.
Call (509) 783-5600 today for a quick quote or click the Get A Quote button