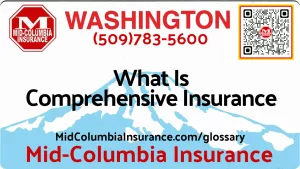 Comprehensive car insurance is an optional type of car insurance that helps to protect your vehicle from damage or loss caused by events that are not collisions with other vehicles or objects.
What Does Comprehensive Car Insurance Cover?
Comprehensive insurance is often referred to as "other than collision" coverage, because it covers events that are not collisions. It is important to note that comprehensive coverage does not cover damage caused by wear and tear or mechanical breakdowns.
Examples of events that would be covered by comprehensive car insurance:
Your car is stolen.
Your car is vandalized.
Your car is damaged by fire.
Your car is damaged by hail.
You hit an animal, such as a deer, with your car.
A tree falls on your car.
Your car is damaged by a flood.
Your windshield is cracked by a flying object.
Your car is damaged in a civil disturbance.
Is Comprehensive Coverage Required?
Comprehensive car insurance coverage is not required by law, but it is often required, along with collision coverage, by lenders for financed or leased vehicles. It can also be a good idea to purchase comprehensive car insurance coverage if you worry about your car being stolen or vandalized.
Cost of Comprehensive Insurance
The cost of adding comprehensive coverage to your car insurance policy will vary depending on a number of factors, including the make, model, and year of your vehicle, your driving history, and your zip code. Comprehensive insurance is, however, relatively affordable, especially when compared to the cost of replacing or repairing a vandalized or stolen vehicle.
Benefits of Comprehensive Car Insurance
Peace of Mind: Knowing that your vehicle is protected from a wide range of events can give you peace of mind, especially if you live in an area with a high rate of car theft or vandalism.
Financial Protection: If your vehicle is damaged or stolen, comprehensive insurance can help to pay for repairs or replacement, which can save you thousands of dollars out of pocket.
Lender Requirements: If you are financing or leasing your vehicle, your lender will likely require you to have comprehensive and collision coverage.
Mid-Columbia Insurance – Your Trusted Insurance Agent
Call our independent insurance agent professionals today at (509)783-5600 or click "Get a Quote" to request an insurance quote today. At Mid-Columbia Insurance, Get the coverage you want at a price you can afford!