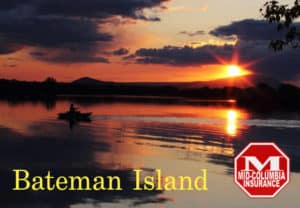 Bateman Island is mentioned in 1805 by Lewis & Clark in their journals. William Clark and the two men with him made their way towards the mouth of the Yakima River but only made it as far as Bateman Island. Bateman Island was as far upstream as Lewis and Clark made it on the Columbia River.
…I took two men in a Small Canoe and ascended the Columbia river [10 miles (16 km)] to an Island near the Stard. Shore on which two large Mat Lodges of Indians were drying Salmon,…there is no timber of any Sort except Small willow bushes in Sight in any direction – from this Island the natives showed me the entrance of a large Westerly fork which they Call Tâpetêtt at about 8 miles distant, the evening being late I deturmined to return to the forks, at which place I reached at Dark…
– Thwaites, Reuben Gold (2001). Original Journals of the Lewis and Clark Expedition, Volume 3
Bateman Island is currently open to the public for fishing, bird watching, and hiking. The island also has multiple geocaches on it.
Web Links
Other Kennewick Attractions