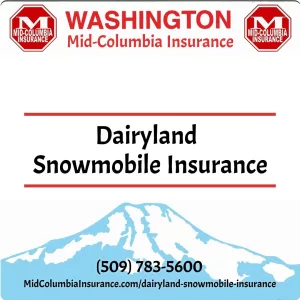 The time you have to hit the trails on your snowmobile is short. If something unfortunate happens, you want to get back to riding as soon as possible with your sled back in prime form. Through Dairyland Insurance, Mid-Columbia Insurance can help you forget your cares so the only thing on your mind when riding is how many more miles you want to go in the snow.
If a snowmobile accident happens, whether colliding with an object or falling through the ice, you want to ensure you and your sled are protected. You can reduce the hassle after an accident, theft, or fire damage with Dairyland's snowmobile coverage.
Getting affordable snowmobile insurance isn't hard. Get the coverage you want at a price you can afford. Get a fast, free quote for cheap snowmobile insurance by calling Mid-Columbia Insurance.
Snowmobile Insurance Features from Dairyland
Here are some of the differences that make Dairyland stand out from the other insurance companies that offer snowmobile insurance:
Optional Equipment.

$1,000 of optional equipment coverage is automatically included when Comprehensive and Collision are purchased. Up to $20,000 of coverage can be purchased.

Safety Apparel.

$2,000 for safety apparel coverage is included when Comprehensive and Collision are purchased. Safety apparel includes helmets, riding boots, gloves, and protective eyewear worn at the time of loss.

Rented Snowmobile.

Your coverage extends to vehicles rented from a licensed facility or dealer.

Diminishing Deductible.

Your Comprehensive and Collision deductibles drop $200 on the first renewal and $100 per renewal thereafter until it reaches zero. Available when Comprehensive and Collision are purchased.

Physical Damage Plus.

This optional coverage guarantees the use of only "Genuine Manufacturer's Parts" when repairing your snowmobile.

Submersion Coverage.

Can cover up to $2,500 for expenses incurred for the salvage or recovery of your snowmobile due to the partial or complete submersion of your snowmobile.

Agency Multi-line Discount. You can receive a significant 'bundle' discount if you have your auto or home insurance policies with our agency.
Policy Flexibility.

You can have your snowmobile on the same policy as your Motorcycle or Off-Road Vehicle.
Snowmobile coverage options
Dairyland coverages were built with the snowmobile enthusiast in mind, so you can be confident that their insurance offers superior protection at a competitive price.
Bodily Injury Liability.

Snowmobiling has risks and today's snowmobiles weigh less and go faster. Bodily injury liability helps if you cause an accident where someone gets hurt—or worse—by paying their lost wages, medical bills, and other expenses.

Property Damage Liability.

Snowmobiling often means trail riding on other people's property. This coverage helps cover the costs should you damage someone else's property, like a fence, building, or another snowmobile.

Guest Passenger.

Riding with a loved one or friend is part of the snowmobiling experience. If you're in an accident and your passenger is injured, guest passenger coverage can help pay their medical bills

Collision.

If you hit a rock, tree, stump, culvert, or other trail hazards, collision coverage helps cover the damage done to your snowmobile.

Comprehensive.

Your snowmobile is a nice ride. Others may think so, too. You can protect your sled in the event of theft or vandalism (along with fire or weather-related incidents) with comprehensive coverage.

Physical Damage Plus.

If your snowmobile is in an accident, you want it repaired to its original state. That includes the replacement parts. When you have Physical Damage Plus, only genuine, original manufacturer replacement parts are used to repair your snowmobile.

Optional/Special Equipment.

Until a snowmobile gets some personal touches it really isn't your snowmobile, right? Optional/Special Equipment coverage helps pay for damage to or loss of your custom equipment you add that isn't factory standard.

Personal Injury Protection (PIP).

No matter who's at fault, personal injury protection helps cover medical costs for you and other eligible persons.

Underinsured Motorist.

If you're in an accident and the other driver is at fault but doesn't have insurance to cover your injuries or damages, this coverage can kick in up to your policy limits.

Submersion.

Snowmobile rides can include riding over frozen canals, rivers, and lakes. If you happen to break through the ice, submersion coverage can help pay recovery or salvage costs.

Enhanced Permissive Use.

If you allow someone who's not listed on your policy to operate your snowmobile and they get into an accident, this coverage can help with those costs.

Transport Trailer Coverage.

Your snowmobile transport trailer is covered for damage caused by collision, fire, severe weather, vandalism, flood, theft, impact with animals, or vehicle upset.

Rental reimbursement.

After an accident, while your sled is in the shop, you still want to ride, right? Rental reimbursement helps pay for a substitute.
Dairyland Snowmobile Insurance Discount Options
Whether you ride daily or are a weekend warrior on the trails, Mid-Columbia Insurance not only cares that you're protected, but we also want to help save you money on your insurance. Check out these great discounts Dairyland offers on snowmobile insurance that can help put money back in your wallet.
Multi-Vehicle.

If you own more than one snowmobile, or even an ATV or motorcycle, you can save money by putting them on the same policy.

Garaging.

Do you keep your snowmobile parked in a garage? Dairyland appreciates your care for your ride and offers a discount for doing so.

Advanced Quote.

Do you plan ahead? Dairyland offers a discount to those who get a quote prior to the effective date of their policy.

Home Ownership.

You may qualify for a discount if you own your home, townhouse, condo, mobile home, or modular home.

Prior Insurance.

Switch your snowmobile insurance to Dairyland, and we'll thank you with a snowmobile insurance discount that saves you money.

Paid in Full.

The name of this discount says it all—pay your premium in full upfront, and that premium cost will be lower than if you make scheduled payments.

Agency Multi-Policy Discount.

You can receive a significant 'bundle' discount if you have your auto, home, renters, or other insurance policies with Mid-Columbia Insurance.
FAQs
How much does snowmobile insurance cost?
You can get Dairyland snowmobile insurance for as low as $7 a month. Many factors go into the cost of snowmobile insurance, including the year, make, and model of your sled, where you live, your age, your driving record, the coverage options you choose, and the discounts you qualify for.
Why should I have snowmobile insurance?
Accidents happen. Either your fault or someone else's. Being involved in an injury accident can be especially costly. Spend some money upfront and save yourself a lot of headaches.
Does snowmobile insurance cover passengers?
Liability insurance may cover some of the costs if your passenger is injured—or worse. The amount depends on the coverage limits you choose.
Are snowmobile accessories and optional equipment covered?
They can be if you select optional equipment coverage. Talk to your agent to make sure you know what is and what isn't covered. You don't want any surprises when filing a claim.
Mid-Columbia Insurance: Your Snowmobile Insurance Specialists
When off-road adventuring calls, make sure you're protected. Call Mid-Columbia Insurance today at (509)783-5600 to speak to a friendly licensed insurance agent and get a Snowmobile Insurance quote.