Toppenish Insurance Agency for Auto, SR22, Home, Renters, and Life
Instant proof of insurance in Topenish, WA
Choosing the right auto insurance in Toppenish is the key to keeping you and your car safe on the road in the event of an accident or other vehicle damage.
More Info…
Insure your drivers license in Toppenish. Broad Form Insurance covers you to drive any car. Owned or Not. Perfect if you own several cars or if you frequently borrow other people's cars.
More Info…
Is your license suspended or revoked as the result of too many tickets, a DUI, or driving without insurance? If you are required to file an SR22 we can get if filed for you with the department of licensing.
More Info…
Protect your property in Toppenish if it is damaged by a fire or stolen. How much would you need to replace your electronics, clothing, furniture, etc. Satisfy your landlord too!
More Info…
Insure your motorcycle in Toppenish from theft or vandalism, along with any liability or medical coverage that you would need after accident.
More Info…
Traveling to Mexico from Toppenish? Get Mexican car insurance for a day, a week, or even a full year if you travel back and forth to Mexico frequently.
More Info…
Best Insurance Rates for You
Are you paying too much for your insurance? Chances are you might be. That is why so many people in Toppenish trust Mid-Columbia Insurance with their insurance needs.
Our licensed professional licensed agents can help you find the coverage you want at a price you can afford.
Our clients come to us for the savings but stay for the quality service we provide. Come see for yourself what everyone is talking about and make the switch to Mid-Columbia Insurance.
Let us help you with your car insurance, 4×4 insurance, drivers license insurance, SR-22 insurance, renters insurance, and homeowners insurance.
About Toppenish, Washington
Located in Central Washington, about 20 miles southeast of Yakima, Toppenish has preserved its beginnings as a rugged western town through restoration and beautification efforts that make it a popular tourist attraction today. Over 70 historical murals are painted on the sides of buildings at the heart of the city, telling the story of early development of the city and its rich history and cultural diversity. The murals depict the many men and women who made lasting contributions to the city.
Come enjoy the best of the west in the City of Toppenish – where the west still lives!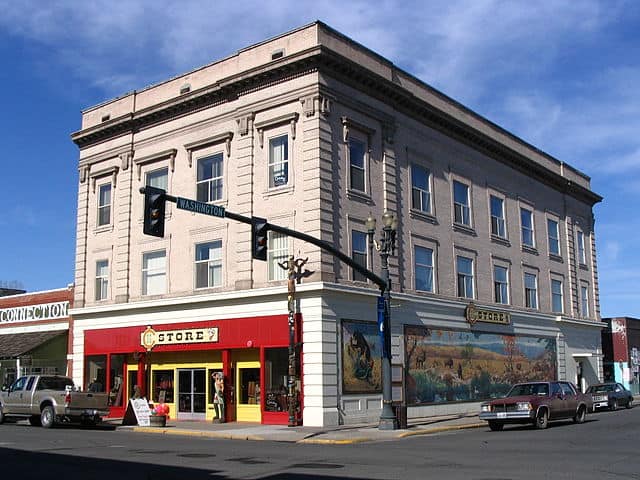 Toppenish Attractions
There are three unique museums, the American Hop Museum, the Northern Pacific Railway Museum, and the Yakama Nation Cultural Center.
Nearby is the Toppenish Wildlife Refuge and farther west is Fort Simcoe State Park.
Daisy is awesome! She was very helpful and got me a very affordable insurance rate. Thank you so much.
Estevan was great at explaining the policy and coverages included in a way that was simple and easy to understand! Recommended
Kyle was great with helping me out with my SR-22